Our Founder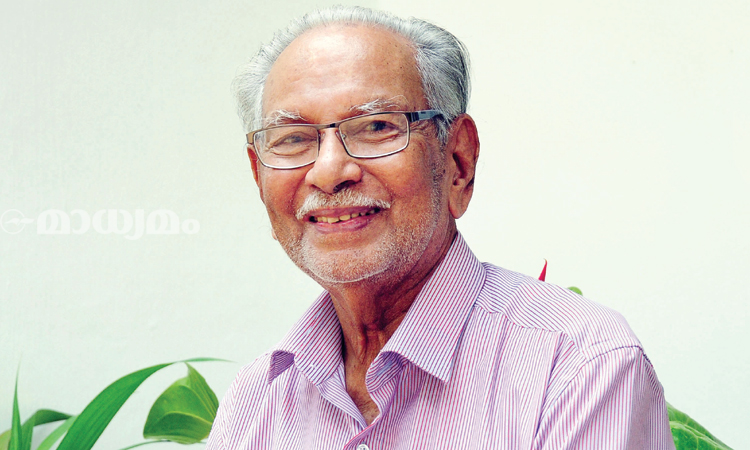 Dr. K M Aboobacker
Scientist-Educationist- Administrator-Social Engineer-Institution Builder-Trainer-Mentor-Author
1928

Born in Koyaliparambil family of Vypin, Kerala

1950

Graduated in Chemistry from Maharaja's College (then under Madras University) and immediately took up service as Junior Lecturer at Farook College, Kozhikode

1956

Completed his MSc from Aligarh Muslim University (AMU) securing the 1st Rank and was a recipient of Senior University Scholarship of Govt of India.

1958

Undertook research in Physical Chemistry at AMU & was awarded PhD, while working as a faculty member of AMU

1966

At BARC he was instrumental in the establishment of BARC Officers Association

1972

Formation of BARC Residents Cooperative Society at Anushakthinagar

1987

Establishment of special school at Anushakthinagar for differently abled children

1997

Birth of a new organization named the Centre for Information and Guidance India (CIGI) of which he became the founder President. CIGI was registered as a voluntary non-profit NGO

2017

Honoured as Chairman Emeritus of CIGI

2018

The year we lost him forever
Dr. K M Aboobacker MSc. Ph.D
Scientist-Educationist- Administrator-Social Engineer-Institution Builder-Trainer-Mentor-Author
Born in 1928 in Koyaliparambil family of Vypin, Kerala, he completed his schooling from Government High School Nharakkal. He graduated in Chemistry from Maharaja's College (then under Madras University) in 1950 and immediately took up service as Junior Lecturer at Farook College, Kozhikode where he continued for three years. In 1956 he completed his MSc from Aligarh Muslim University (AMU) securing the 1st Rank and was a recipient of Senior University Scholarship of Govt of India. He then undertook research in Physical Chemistry at AMU and was awarded PhD in 1958, while working as a faculty member of AMU.
In 1959 he joined Bhabha Atomic Research Centre (BARC), Government of India as Scientific Officer. He continued with BARC in various capacities till 1989 before retiring as Senior Scientist and Head of BARC Training School.
During his career at BARC he was instrumental in the establishment of BARC Officers Association (1966), formation of BARC Residents Cooperative Society at Anushakthinagar (1972), creation of Employees Family Relief Scheme (BARC & DAE) and establishment of special school at Anushakthinagar for differently abled children (1987). He also served as Honorary Secretary of Atomic Energy Education Society for 15 years, with the responsibility of running all schools under the Dept. of Atomic Energy.
After his retirement from BARC, he was Advisor to Chembond Chemicals Ltd, a chemical manufacturing company in Bombay for two years. On returning to Kerala in 1991 he became the founder director of Al–Farook Educational Centre, Kozhikode. He also served as Director, Institute of Company Secretaries of India Southern Regional Council, Madras.
Dr. Aboobacker was always concerned about lack of available guidance in Kerala, especially in rural areas, for students aspiring for higher education. His own experiences were probably the best example of this. A formal modern education in a field of his choice, rather than the higher education confined to religious studies that his family had insisted on, was made possible only due to the timely intervention and guidance of his Madrasa Usthad K V Klappana Mohammed Moulavi, who even went further to provide the necessary finances. Another personality that played a crucial role in his progress towards an illustrious career was the then Executive Engineer of PWD Mr. Kumarankutty Menon who on seeing his excellent results in the intermediate exams and realising his potential for a better career, refused to allow him to continue in the clerical post which he had temporarily taken up.
Dr Aboobacker felt the need of a proper Career Guidance facility for high school students to assist them in selecting appropriate courses for higher education oriented towards careers matching their aptitudes and interests. He shared this concern with a few likeminded enthusiasts and initiated a series of deliberations in 1996 among educationists, intellectuals and social leaders in and outside Kerala. The result was the birth of a new organization named the Centre for Information and Guidance India (CIGI) of which he became the founder President. CIGI was registered as a voluntary non-profit NGO under Societies Act, 1860 on 1st January 1997. Thereafter he dedicated his entire time and energy for CIGI and continued as its President till 2017 when he was honoured as Chairman Emeritus of CIGI. Although his poor health did not allow him to continue with regular activities in CIGI, he has remained the inspiration and driving force behind thousands of CIGIans.
We lost him forever in 2018, but CIGI will always be indebted to him and cherish his memory forever.
Our Credentials
NGO Registration
CIGI is registered with NGO DARPAN (maintained by NITI Aayog, Govt. of India) with unique ID KL/2010/ 0033888
Societies Registration
CIGI was registered under Societies Registration Act, 1860 with register number 7/1997
CSR FUND Recipient
CIGI is eligible for getting CSR funding, as it is registered with Ministry of Corporate Affairs (CSR00014488)
INCOME TAX Deductions/Exemptions
1. Donations to CIGI are eligible for Income Tax deductions under Income Tax Act 80G (5)(vi). 2. CIGI is exempted from paying Income Tax, as it is registered under 12A of Income Tax Act.
Pan Card
CIGI is registered with Income Tax with PAN Card number AAATC2432N